History
Team Ambush - Alpha Squad is a paintball team that was established in February of 2005. The team plays tournament speedball and competition scenario games. The team currently consists of several players from various high profile teams that make up one competition team.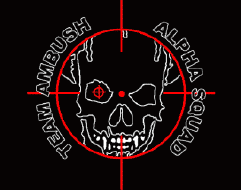 For details or if you would like to be considered for team membership, then send an email including a player resume to the Captain of the team at Owner@AmbushAlpha.net.

Team Ambush Alpha Squad made an impression on the paintball world their first season out, winning several awards and accomplishing many team goals. Although the team was only established in February of 2005, they earned a Most Valuable Team Award, a Most Valuable Team Assist Award, 2 Most Valuable Player Awards, a First Place In Points Award in a scenario league, 3 XO Game Wins, a Generalled Game Win, along with some smaller awards and honorable mentions. Team Ambush worked long and hard to gain the respect and admiration from their fellow paintball teams that have been established for many years. Team Ambush is now seen in the paintball community as one of the finest teams around, with their great sportsmanship, honorable playing, donations to events, as well as helping and assisting others both on and off the field. The Captain (Brian Reph) of the team stated that they couldnít have done it without the help and assistance of some of the great paintball teams on the field today. Such teams as; Team Pain, T.S.S.O.C., N.A.S.P.B.L. Teams, The Undertakers, Jersey Titans, Blues Crew, and many others.

Team Ambush Alpha Squad is also known as The Ambush Alpha Factory Team. Ambush Alpha is involved in the advertising / promotional merchandise business that specializes in the paintball industry. Ambush Alpha is also a paintball retailer with some of the lowest prices around. Information about Ambush Alpha can be found at their website at www.AmbushAlpha.net. Although Ambush Alpha provides the team with all their promotional needs, such as patches, uniforms, banners, decals, t-shirts, etc., the team also receives a lot of much appreciated support from their other sponsors. Because of the teams high profile and reputation it was fairly easy for the team to succeed in landing several big sponsorships. The team is extremely happy with all that their sponsors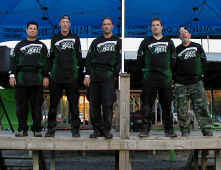 have done for them and had nothing but positive remarks about all their sponsors, and the high quality products that their sponsors produce. As it stands now, the teams sponsors for 2006 are as followed, listed in alphabetical order are; Ambush Alpha, APP (Allen Paintball Products), BT Paintball, C.A.G.G. (Combat Action Gaming Group), Cops 911, EMR Paintball Park, Evil, Fire Fox Technologies, Hoffman Paintball, HOO-AHHS Field Towels, Hype Energy Drink, Identity Factory, Major Paintball, MSS Imagewear, Q-Loader, and Ricochet. Also supporting Team Ambush in 2006 will be, Pyro Paintball, LVP (Lehigh Valley Paintball Field), and Celldweller for providing the music for the team.

Since February 2005, when the team was established, Team Ambush has picked up several players and now consists of about 20 members both full and associate members. The team is made up of players that came from various high profile teams, such as The Bushwackers, P.P.O.N.T.I., Jersey Titans, Team Splat, Ghost Team, and even a member of the Blues Crew. The team consists of players that have a wide range of skills, level of experience, age, race, and location. While some players are experienced with recball, others are experienced in scenarioball and speedball. Some players have been playing for just a year while others have many years of experience. The playerís ages on Team Ambush range from 16 to 60. The original members of Team Ambush are from PA, but since the team has grown in the past year, they now have players from their neighboring states as well. There are now several players on the team from New Jersey, Delaware, Rhode Island, and New York.

The team had an awesome season and rapped it up at the NASPBLís last event on October 15th at EMRís Paintball Park. Although the season is over for the team in 2005, they may show up for a rec game or scenario game somewhere. Keep an eye out for the team at future events in the vending area as well. Team Ambush will be manning their teamís vendorís booth. They will be selling their sponsors merchandise as well as some other various items that the team stands behind. In 2006 the team also plans on building their own field provided by EMR Paintball Park, one of the teamís sponsors. The fieldís name is to be announced. Along with the field, the team will be working on their teamís bunkhouse, also provided by Blue the owner of EMR Paintball Park. Team Ambush is also proud to announce that, EMR is now Team Ambushís home field. Team Ambush will be expanding even further and will be hitting the speedball circuit in 2006. They will be competing in the Rookie 3 Man Division at a few tournaments located in the North Eastern part of the US. One of the tournaments that they will be competing in is the Deuces Wild Tournament Series that is located at EMR. Next year, Team Ambush will also be looking forward to running along side the Blues Crew at scenario events. Not only will they run with the Blues Crew, but they will also be running with some of the other phenomenal teams at EMR, like Pub Crawling, Joint Fury, PA Brew Crew, Boneheads, Hellraisers, Jersey Titans, Canadian Justice, Paintball Marshals, GOB, and the many other home teams at EMR. Finally, the team is working on a promo video that will be released in 2006. The video will contain some game action, sponsor reviews, stills, documentary clips, and more. For more information on the team, how to join Team Ambush Alpha Squad, or if you would like to sponsor Team Ambush, please visit their website at www.TeamAmbush.net. They are always looking for new serious players to join the team as well as new sponsors.

ANNOUNCEMENT...
Let me be the first to say how happy I am to announce the scenario team of the future! J.S.O.C. Together our teams will fight side by side at any and every scenario game to come. The team is formed from members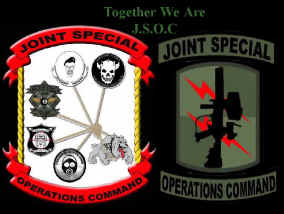 from TEAMS; UNDERTAKERS, SECTION 8, AMBUSH ALPHA, MIDNIGHT RAIDERS, and EXTREME MEASURES...
Our forces will join together as one. We will always fight for the American side of the game. For those of you who have played against us you know the damage we all cause, and for the others who don't, well you'll just have to feel it for yourselves! SEE YA ON THE BATTLE FIELD...