Thank You For Your Interest In Ambush Alpha
We carry a huge inventory and can not list all of the thousands of items we carry. Please feel free to email us at Sales@AmbushAlpha.net if you do not see an item listed that you are interested in, or fill out our Inquiry Form. You may also click on the manufacturer's links listed under each item name to view the full line of items we carry from each manufacturer.
Ambush Alpha is a one stop shop for the paintball enthusiast. Whether your a player, field owner, store owner, team, or business. You will find that all your needs can and will be met at Ambush Alpha. Ambush Alpha sells new and used paintball merchandise as well as other products that our factory team stands behind. If you do not see an item or service listed, please contact us by email at Sales@AmbushAlpha.net with details of the service or item you are inquiring about. We may not stock the item but can place orders on all items not stocked with virtually no delay.
New items carry a factory warranty by the manufacturer. Any manufacturer defects are the sole responsibility of the manufacturer. Ambush Alpha Armory is not liable for manufacturer defects, performance, or condition of the manufacturers product. Ambush Alpha will assist in any way possible to resolve issues with products.
Please feel free to contact Ambush Alpha with any questions pertaining to products or services at Support@AmbushAlpha.net.
Acceptable Payment Methods
We accept all major credit cards. You may also place orders by mail. Print out the following information and make check or money order payable to Ambush Alpha. Mail check or money order to Ambush Alpha PO Box 238 Danielsville, PA 18038. Merchandise will be shipped after payment has been verified.
Check or Money Order
Return Policy
It is the sole responsibility of the purchaser to ship and pay for items that are being returned. The purchaser will incur a restocking fee as well. The restocking fee will be 10% of the total purchase price. Items may only be returned for store credit. Sorry no refunds will be issued. All items must be returned in their original packaging with all parts in new condition. Items that were taken out of box or have been used are not eligible for store credit.
Shipping Methods
Free shipping on purchases of $200 or more. Free shipping does not apply to wholesale, bulk, promotional items, or oversea purchases. Free shipping is designed for individual customers and not retailers, wholesalers, or special purchases. Free shipping does not apply to price matched items or sale items in some cases.
All items are shipped UPS ground or USPO Parcel Post unless otherwise indicated in order. Items are usually received 4-10 business days after order has been paid in full.
Testimonials
THE TEAM LOVES THEM, awesome craftsmanship!!! I decided I was just going to tell you in person on Saturday, but now you have a testimonial in writing. Obviously, we'll be referring to you in the future.
STORM CLAWS Scenario Team - CAPTAIN
NASPBL SNE Minutemen - Team Major (2005)
Christopher Nadeau
"Brian, thanks for the changes. The site looks fantastic."
Malcolm Gieske - Soundcraft
"Just got the Q-loader I ordered from you today. Great service by the way. I wanted to leave you feedback in the "feedback" section, but saw that you didn't have one set up yet. Let me know if you set one up so I can do so, and I hope you do the same for me. Thanks for everything, I'll definitely recommend you to others."
Brent Ballard
"I just got it and I couldn't be happier. Everything came packaged great and was in great condition. I am glad this went smoothly and I can't wait to do business again!"
Thank you for your time,
-Jeremy
"Wow. It looks amazing. I showed it to a few people, and great responses all around. I think it'd look great on the back of a t-shirt. Well worth the money."
William Griffin - www.The-CAGG.com
"Hey Brian I wanted to thank you for the patches, they look great."
John Medina - Section 8
"Thanks again brian, Appreciate your great services. And if you could back to me when your can about another used MilSim that would be great."
Dean C.
I got to meet Rephy there at EMR for the first time And it Was my first time at EMR . I had a great time there and I had my pop-up camper right across Chris from the Titans He was really cool it is awesome to hear that the two teams came together Brian was very helpful when I had a mishap with my hopper being shot off my gun, I must say that the Ricochet Hopper was great help out and it has out perform my old hopper and now I use it for a back up which has not happen yet . thanks Brian and Chris for the great time over Labor day weekend they show a first time at EMR so thanks for all the great time I hope to see you all again.
Thomas Heemer ( AKA Beaker 81 ) Team Warren Underground.
Ambush Alpha Vendors Booth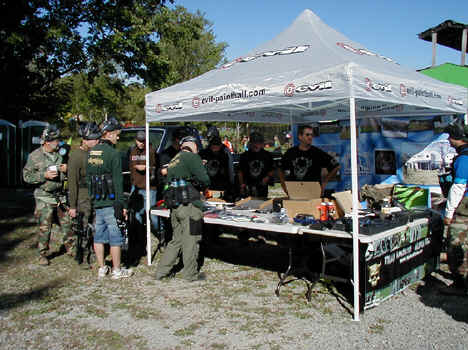 From left to right - Crosshairs, Team Ambush (Ambush Alpha Factory Team) , Jersey Titans
Ambush Alpha Donates To Many Events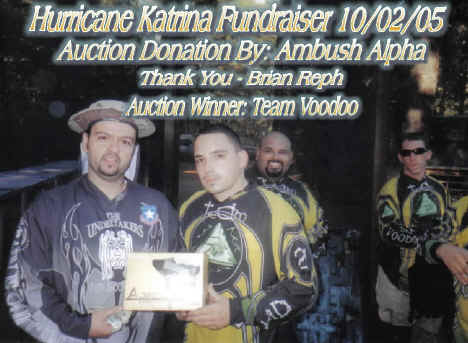 From left to right - Hercules, Team Voodoo Hurricane Katrina Fundraiser hosted by Undertakers